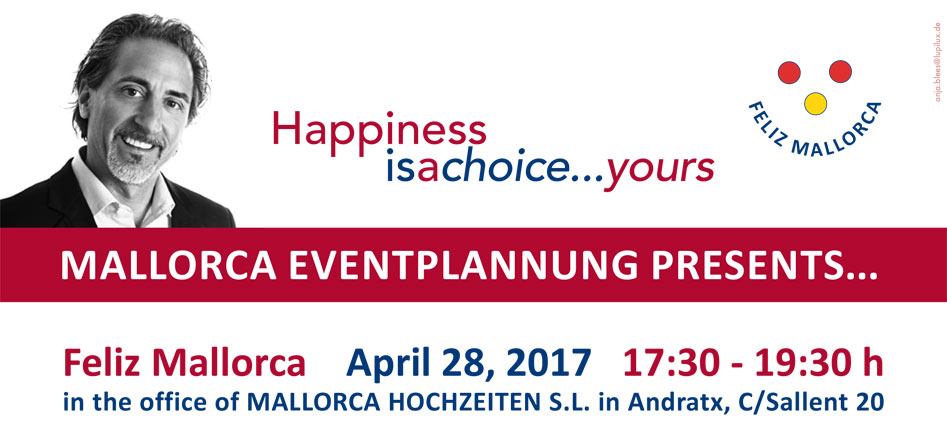 Feliz Mallorca April 28, 2017 17:30 – 19:30 h in the office of MALLORCA HOCHZEITEN S.L. in Andratx, C/Sallent 20
WE ARE LIVING IN INTERESTING TIMES. MANY PEOPLE ASK THEMSELVES, "AM I DOING THE THING I LOVE?" AND "IS MY WORK FULFILLING?" OR BASICALLY "AM I HAPPY?"
We spend on average of 8 to 10 hours a day doing a job we may or may not find gratifying. In a perfect world, that job should be rewarding, satisfying and most importantly, it should allow us to work in our strengths.
Managers and executives are more engaged if they themselves are working in their strengths. They are also expected to support their staff with positive and constructive feedback, bringing out the best in their team.
In fact, happy and satisfied employees are more productive, more motivated, more solution oriented and less absent. Not to mention, they actually bring in more cash for the owners and share holders.
Enter Drs. Randall Birnberg, an educator, author and speaker who has helped thousands of professionals, both privately and on the job, find true satisfaction. Born in Chicago and having studied in New Mexico, Italy, The Netherlands and Germany, Randall couples the ancient wisdom of the east, "mindfulness" with the modern science of the west,"positive psychology"and shows people that they alone have the power to create their own happiness. His thirty years as an international educator and speaker has given him the know-how and experiences to help people find their true purpose in life.
So, join Randall for an evening of facts, fun and interactive role-play that are guaranteed to leave you with some "food for thought."
"MY HOPE IS THAT YOU'LL BEGIN THE VERY NEXT DAY MAKING THOSE MINOR ADJUSTMENTS THAT WILL CHANGE YOUR LIFE FOREVER."
After all, happiness is a choice…yours!
Visit Mallorca Eventplanung
https://letsspeakhappiness.com/wp-content/uploads/2017/05/mallorca-eventplanung_logo_01.jpg
200
300
Marcus
https://letsspeakhappiness.com/wp-content/uploads/2023/03/Screenshot-2023-03-18-at-23.13.33-2.png
Marcus
2017-04-25 14:54:47
2017-06-02 12:16:51
Feliz Mallorca