Positive Engagement Workshop … From what is wrong to what is strong, September 09, 2015
"Positive Psychology is the scientific study of the strengths and virtues that enable individuals and communities to thrive". It's no wonder that strengths play an important part in are happiness and in the last 15 years or so, research evidence supports the value of identifying and playing to your strengths. Benefits for the individual include elevated vitality and motivation, a greater sense of direction and higher probability of goal attainment, not to mention increased self-confidence and productivity Actually, identifying and building our character strengths are the backbone of Positive Psychology. Using our 5 highest strengths also leads to: More positive emotions, more engagement, better relationships, more meaning in our life and more accomplishments.
In this workshop, the participants will first learn self-awareness and how to discover ones strengths. You will learn to understand and develop your own individual strengths in order to improve your performance and life satisfaction. Once we have discovered your 5 top strengths though thought provoking role-plays and introspection, we will discuss how they can be applied to your current job or find that perfect other job. The goal here is to find what you love and to go toward that goal. The presentation will end with some 'take aways' intended to have the participants use their newly found strengths straight away. Please join us for this special event and I can almost guarantee you'll walk away with some profoundly new ways to identify and use your strengths. This will make you and everyone around you more happy. After all, isn't that what we're all looking for, happiness.
For further details, click logo: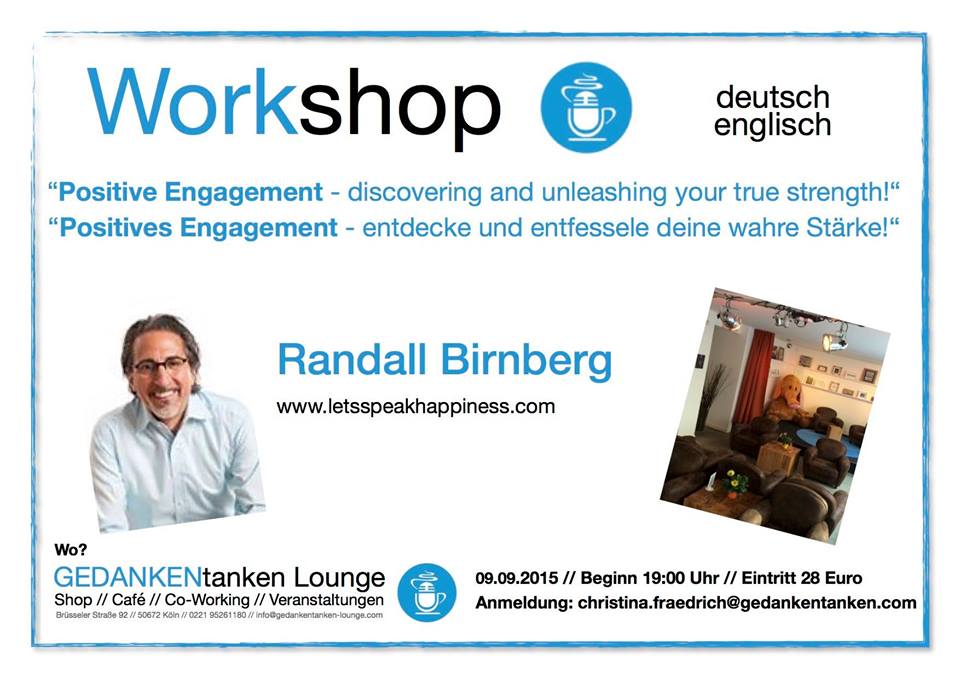 https://letsspeakhappiness.com/wp-content/uploads/2017/04/strengths-workshop.jpg
678
960
Marcus
https://letsspeakhappiness.com/wp-content/uploads/2017/05/Randall-Birnberg-Logo-1a.png
Marcus
2017-04-26 18:50:41
2017-04-26 18:50:41
From what is wrong to what is strong